ATELIERS LOCAL CRAFT - Artigianato Locale
Emilia Burano, 100 % made in Italy. Quality, craftsmanship and understated elegance.
L'Azienda
A Venetian "family affair"  since four generations Craftsmanship that curates the purest linen for style, home, yacht, hotel and private jets.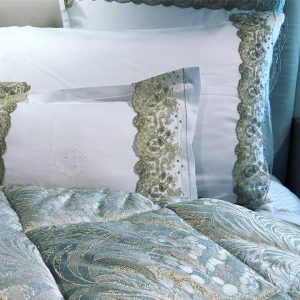 EMILIA BURANO is a Venetian lace making company that translates the ART OF LIVING in the finest Linen and lace.
Emilia Burano is very much a "Family affair" that  started in the 1800's with great grandmother Emilia learning the intricate art of the lace making at her mother's knee, skills that have passed down four generations.
Today, still a Family Business owned factory, it does not confine its creativity to lace, but also produces fine bespoke home linen, furnishing the world's most eminent residences, hotels, yachts and private jets.
"The most fine linen, silk, satin cotton and cashmere  designed in Venice and 100% Made in Italy".
Emilia Burano has two Boutiques on Burano Island (in the Venice Lagoon) and one in Venice inside the Prestigious "Belmond Hotel Cipriani".
A legend started with Emilia's fingers  dancing with needle and thread and lives forever through exclusive  Linen and Burano Lace.
"Quality, craftsmanship and understated elegance"
Info
Mappa
Galleria Fotografica